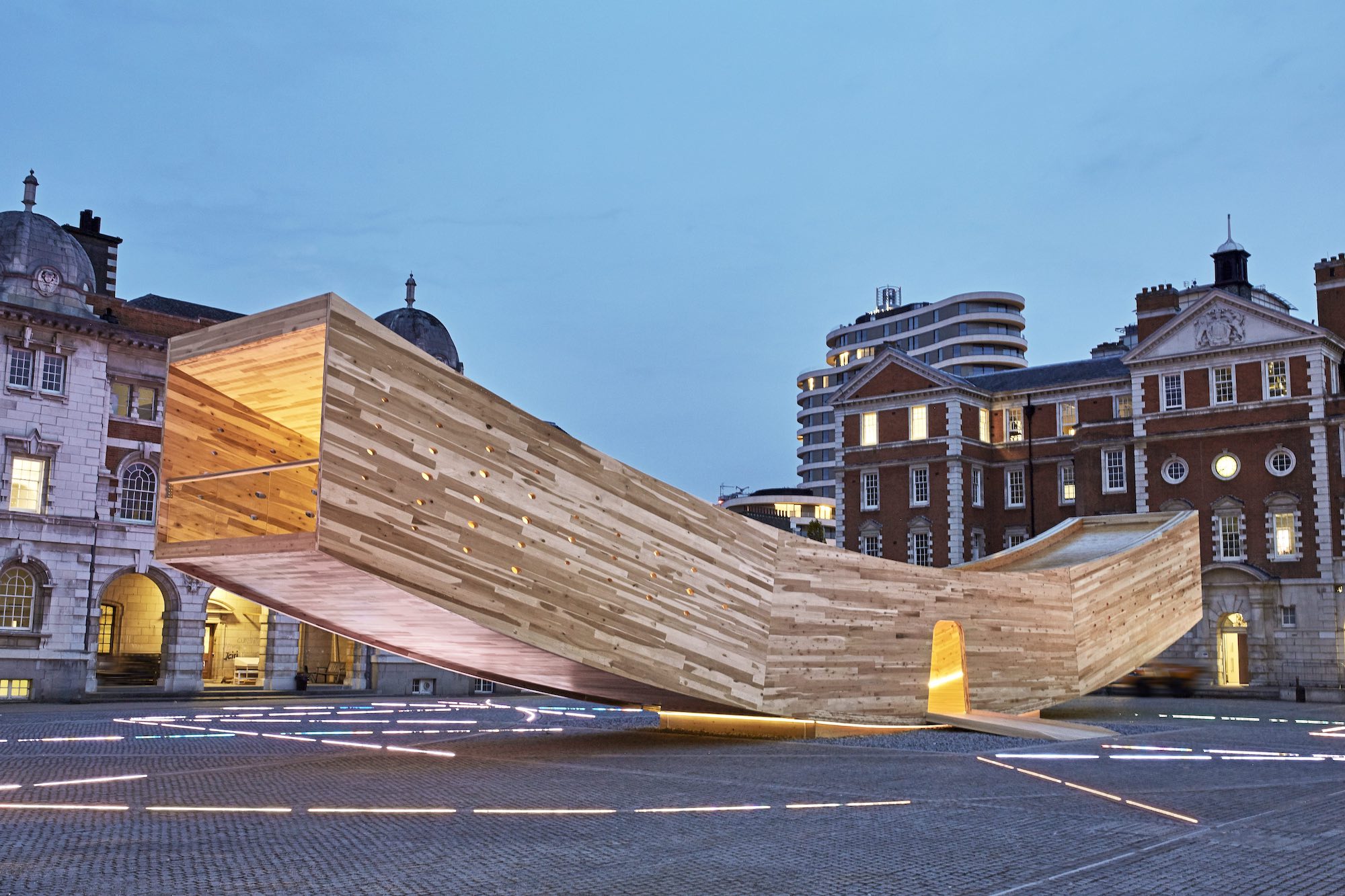 The Smile was designed by Alison Brooks Architects and engineered by Arup. Made from American tulipwood, this was an innovative and ground-breaking Landmark project by AHEC for the London Design Festival 2016. Photo by Tom Donald.
AHEC – American Hardwood Export Council
PR and Strategic Communications for AHEC in Scandinavia.
About AHEC
AHEC – American Hardwood Export Council – is the leading international trade association for the American hardwood industry, representing the committed exporters among hardwood companies, who now market and sell their products all around the world. For more than 30 years, AHEC has been at the forefront of international wood promotion, successfully building a distinctive and creative brand for American hardwoods.
By recognizing the key role design plays in the successful and innovative use of hardwoods AHEC helps the American hardwood industry develop new opportunities by building a rapport with the global design community. In Europe, AHEC is renowned for its imaginative and ambitious collaborations with architects and designers to highlight the potential and inspire more use of these sustainable materials.
AHEC's support for creative design projects such as Legacy (2019), The Smile (2016), MultiPly (2018) and Connected (2020) for the London Design Festival demonstrate the performance potential of these sustainable materials and provide valuable inspiration.
Connected
Latest example of AHEC's creative design projects is the exhibition Connected presented at London's Design Museum in 2020. This extraordinary exhibition showcased the results of an experiment that set out to explore how designers and craftspeople adapted their working practices during the Covid-19 crisis.
The American Hardwood Export Council (AHEC), Benchmark Furniture and the Design Museum challenged nine international designers to create a table and seating, using three sustainable American hardwoods – red oak, maple or cherry – to suit their new ways of living at and working from home.
The designers participating in Connected were Maria Bruun (Denmark) Jaime Hayon (Spain), Thomas Heatherwick (UK), Sebastian Herkner (Germany), Sabine Marcelis (Holland), Studiopepe (Italy), Studio Swine (UK/Japan), Ini Archibong (Switzerland), Maria Jeglinska-Adamczewska (Poland).
Legacy
Legacy was another spectacular exhibition project during London Design Festival 2019 with designers Max Lamb (UK), Jasper Morrison (UK), Jack Mama and Nina Tolstrup – Studiomama (UK/Denmark), Terence Woodgate (UK), Marlène Huissoud (France), Yael Mer and Shay Alkalay – Raw Edges (UK/Isreal), Tomoko Azumi – TNA Design Studio (UK/Japan), Sebastian Cox (UK), Juliet Quintero (UK) and Martino Gamper (UK/Italy).
The designers were paired with high profile commissioners from cultural institutions in London to create beautiful and thought-provoking legacy pieces in American red oak. The projects were shown at the Victoria & Albert Museum, London, in September 2019.
Nina Tolstrup (Denmark) and Jack Mama – together Studiomama – were paired with Hans Ulrich Obrist, Artistic Director of the Serpentine Galleries. They created a large and a small iteration of a postbox for the Serpentine Gallery.
Sustainability
AHEC has pioneered the modelling of environmental Life Cycle Assessment (LCA) for hardwoods, an approach that has since been adopted by other industries. LCA measures a number of impacts: primary energy demand (from renewable and non-renewable resources); global warming potential; acidification potential; eutrophication potential; and, photochemical ozone creation potential.
Guide to sustainable hardwoods
'A guide to sustainable American hardwoods' is a new publication by AHEC. The 100-page publication is a comprehensive guide to American hardwoods, complete with lavishly illustrated application case studies – including furniture pieces by Jasper Morrison, Jaime Hayon and Heatherwick Studio, and grand architecture projects by Foster + Partners and Adjaye Associates.
The publication is sharply focused on the sustainability of the American hardwood resource. It gives a full break down of the properties, applications, environmental credentials of the commercially available U.S. hardwood species.
Highlighting renewability, each species section gives the time taken by the forest to regrow a cubic metre, derived from AHEC's online life cycle assessment tool. It features an interactive map showing forest distribution, growth and timber removal.